Bhitarkanika is a place where nature talks and animals roam freely. Birds fly higher in the sky with confidence and freedom.
The surrounding forest, river, and blessings of the sea make this place a fantastic destination to visit in Odisha. If you are a wildlife enthusiast, you will drown in the matchless beauty of the site.
Where is Bhitarkanika national park?
Bhitarkanika is situated on the coast of the Bay of Bengal. It is surrounded by beautiful land and green-mesmerizing mangrove forest.
Bhitarkanika is a national park located in the Kendrapada district of Orissa in eastern India. The National Park is surrounded by the Bhitarkanika wildlife sanctuary.
Biodiversity of Bhitarkanika
Bhitarkanika is a portmanteau of two Odiya words – Bhitara and kanika. Bhitara means interior and Kanika means extraordinarily beautiful. The park, with rich biodiversity, is home to the saltwater crocodile and many other species of flora and fauna.
The Gahirmatha beach, which bounds the sanctuary to the east, separates its swamp region (forested wetland) covered with the canopy of mangroves from the Bay of Bengal. It is confined to the Delta region of the river Brahmani and by Tarini.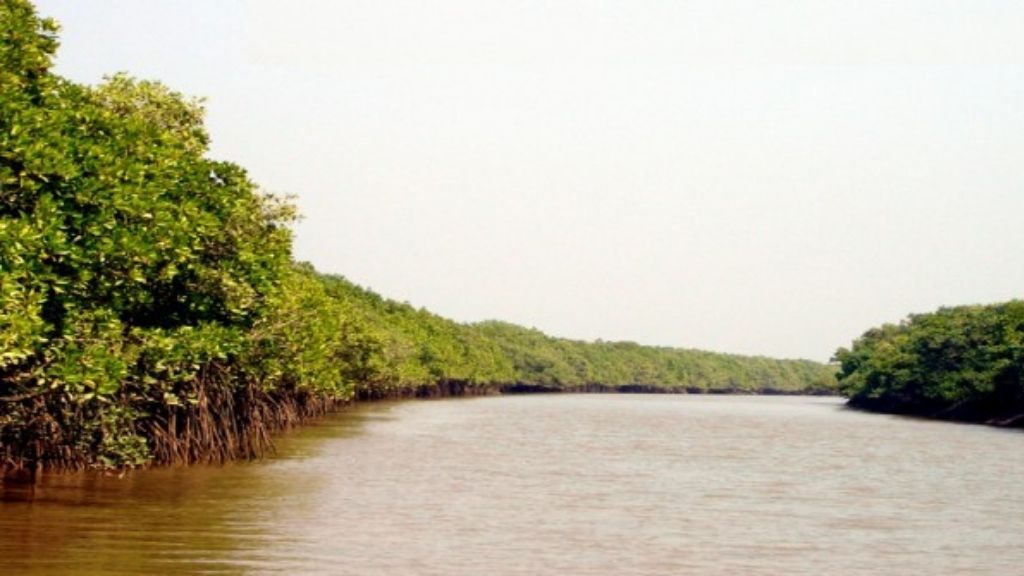 Interesting history of Bhitarkanika
The Bhitarkanika mangroves were zamindari forest until 1952. The government of Odisha later abolished the zamindari system and placed the forest under the control of the State Forest Department.
The following years saw a heavy influx of intruders, which took a heavy toll on the mangrove forests.
Large-scale encroachment on forest land took place in the expansion of Agriculture. In 1975 an area of 672 square kilometers was declared as a Bhitarkanika wildlife sanctuary.
Marine life sanctuary
In the same year, the famous crocodile conservation project was initiated, and in September 1997, the Gahirmatha beach was declared as a Marine life sanctuary.
Gahirmatha beach is one of the world's largest mass nesting grounds of endangered Olive ridley sea turtles.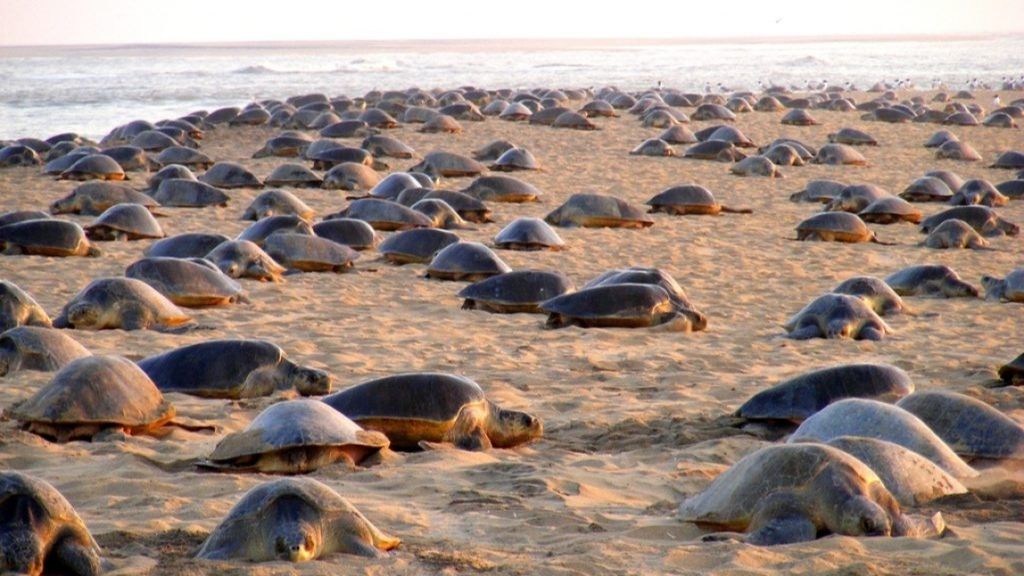 In September 1998, with 145 square kilometer core area of Bhitarkanika Wildlife Sanctuary was finally led to the creation of the Bhitarkanika National Park
In 2002, Bhitarkanika mangroves which are the second largest mangrove ecosystem in India, were designated as Ramsar site, a wetland of International importance.
Mangroves of Bhitarkanika
Mangroves typically occur on sheltered mudflats between high and low tide levels in areas with high annual precipitation. They are also known as tidal forests or Delta x1 forests.
Bhitarkanika has a rich diversity of mangroves in India, extending over a 145 square kilometer area comprising 94 rare and endangered species.
About 28 mammals, 14 amphibians, 42 reptiles, & 285 species of birds can be witnessed in Bhitarkanika. More than 300 plant species are also found here.
Wildlife of Bhitarkanika
In this wildlife sanctuary, you can see mammals such as Sambar, Spotted Deer, Wild Boar, Fishing cat, Leopard cat, Hyena, Porcupine, and Smooth Indian Otter.
In addition to mammals, you can also see reptiles such as saltwater Crocodiles, Monitor Lizard, Indian Python, and King Cobra.
Birds you can see here are Indian Skimmer, White-bellied sea eagle, Bar-headed Geese, Brahminy duck, Pied Avocet, Spot-billed Pelican, Lesser Adjutant Stork, Mangrove pitta, Goliath Heron, Painted Stork, Spoonbill, Ibis, Moorhen, and Grey Hornbill.
The breeding ground of Crocks
Nearly 1671 saltwater crocodiles inhabit rivers and creeks. Some are reportedly 23 feet long.
A crocodile rearing center has been set up here at Dangamal. As per the officials, around 3000 saltwater crocodiles were born during the 2014 annual breeding and nesting season.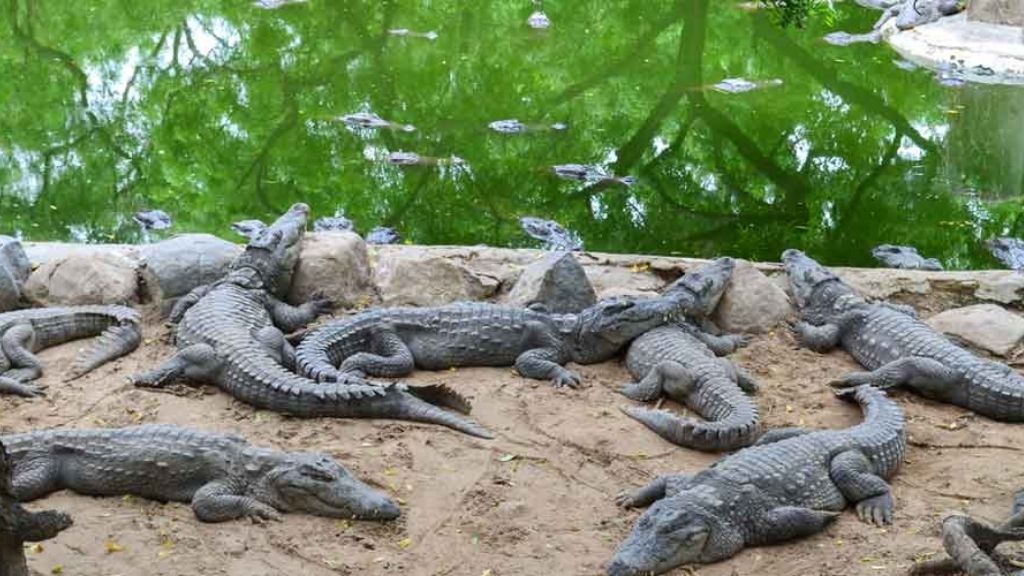 Nesting of Birds
Bhitarkanika also holds one of the unique wonders of nature. About 80 thousand resident birds from different India come for nesting during the monsoon season.
It has been noticed that about 17 species are rare and endangered. They stay the entire season and fly away with their offspring, bidding goodbye to the place for a year.
You can also see migratory birds like Pelican, Siberian duck, and Seagulls on Gahirmatha beach.
Glorious scenery of Bhitarkanika
The congenial habitat of Bhitarkanika coupled with microclimatic conditions enables to harbor high magnitude of flora and fauna diversity.
The lush green mangrove forest, the energy emitting open blue sky, basking Crocs on the mudflats of the Greeks, murmuring birds on the branches of mangroves are all the glorious scenes you can see here.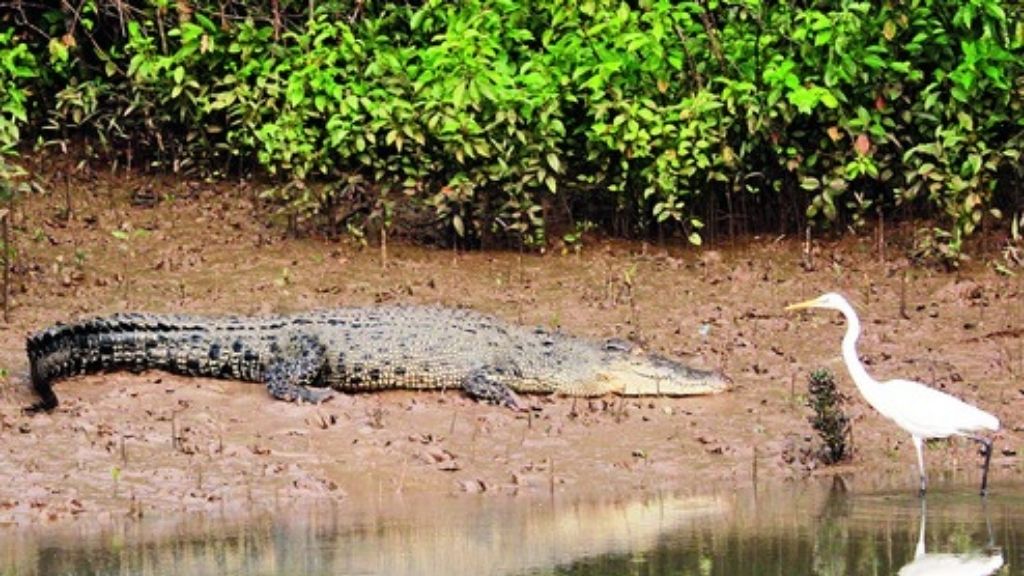 Boat ride in Bhitarkanika
The boat ride between the creeks offers you a rare opportunity to witness one of the most incredible biodiversity in the world.
Spotted deers, wild boars, crocodiles, seven species of kingfishers, and several more species can be seen here at major locations. They greet you and welcome you with their humble gestures as you pass them along the riverbeds.
A boat ride from Khola, which is one of the gateways into the sanctuary, offers a glimpse of the estuarine ecosystem of the sanctuary.
The best time to travel through this Creek is early morning or before sunset. You can also take a walk in the nature trail of Habalikhati and Bhitarkanika forest block.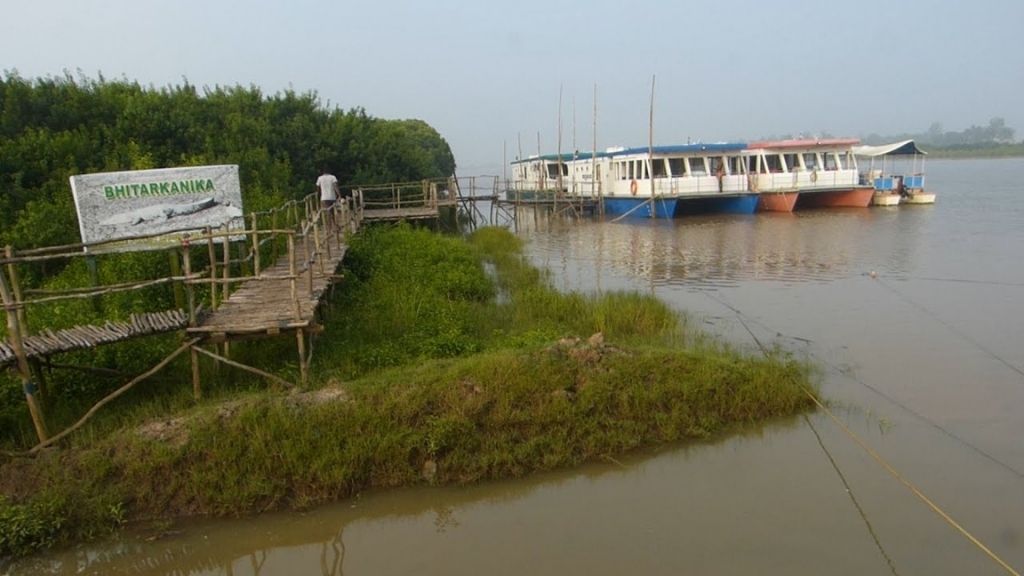 Historical & cultural past
Bhitarkanika has a very rich historical and cultural past. It used to be the hunting grounds of the erstwhile King of Kanika.
The hunting towers and artificial watering holes can be seen at many places, including the Bhitarkanika trail and at Dangamal. It is also home to medieval Hindu temples.
Major Attraction in Bhitarkanika
Water sport, eco-cottages, marine voyages, nature trails are some major attractions that you can explore.
Bhitarkanika is an ideal place to celebrate the existence and importance of nature. You can find joy, peace, and tranquility here. Scientists, scholars, nature lovers find abundant opportunities for thought and exploration.
A tour of the Museum in Dangamal is another learning and informative experience.
Best time to visit Bhitarkanika
The best time to visit Bhitarkanika is between October and March. The entry point to the sanctuary is at Gupti, Dangamal, and Dhamra.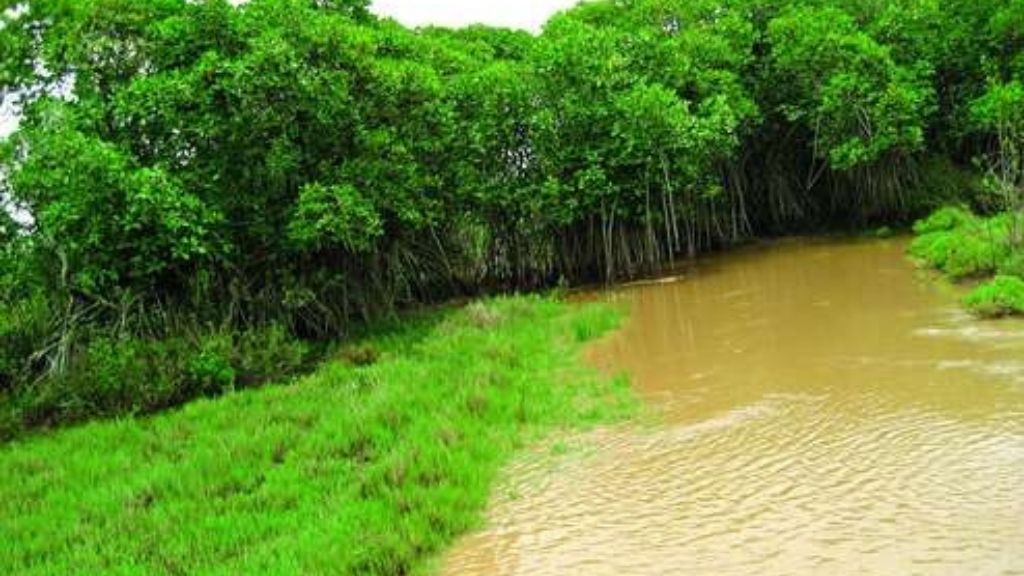 How to reach Bhitarkanika?
The nearest town to Bhitarkanika is Chandbali which is at a distance of 35 kilometers. The nearest railway station is at Bhadrak at a distance of 80 kilometers, and the nearest airport is in Bhubaneswar at a distance of 160 kilometers.
Where to stay?
You can find a comfortable stay at various Eco-tourism cottages available at Gupti, Dangamal, and Habalikhati in the sanctuary.
Cottages can also be booked online in advance at Eco-Tourism – Govt. Of Odisha.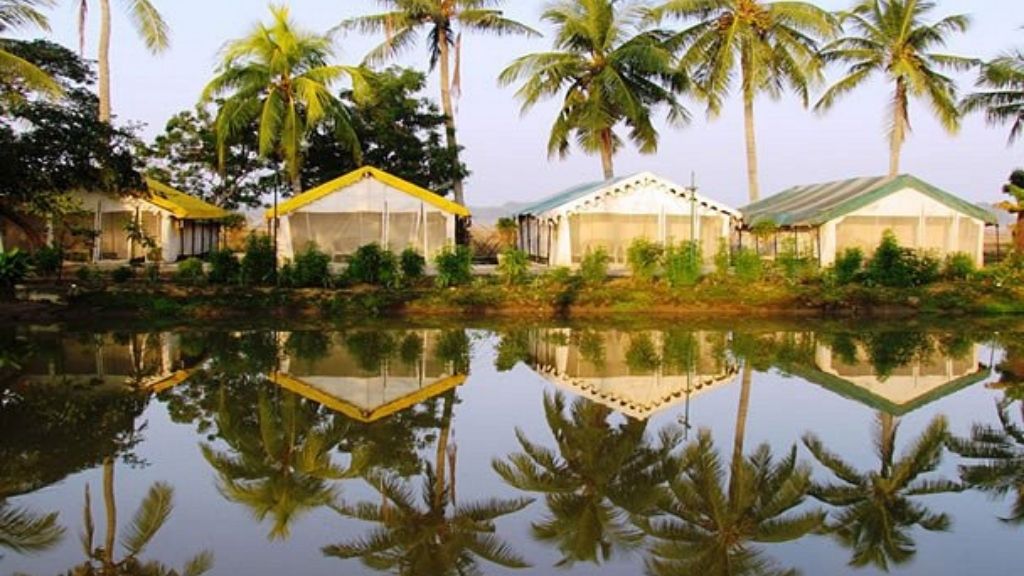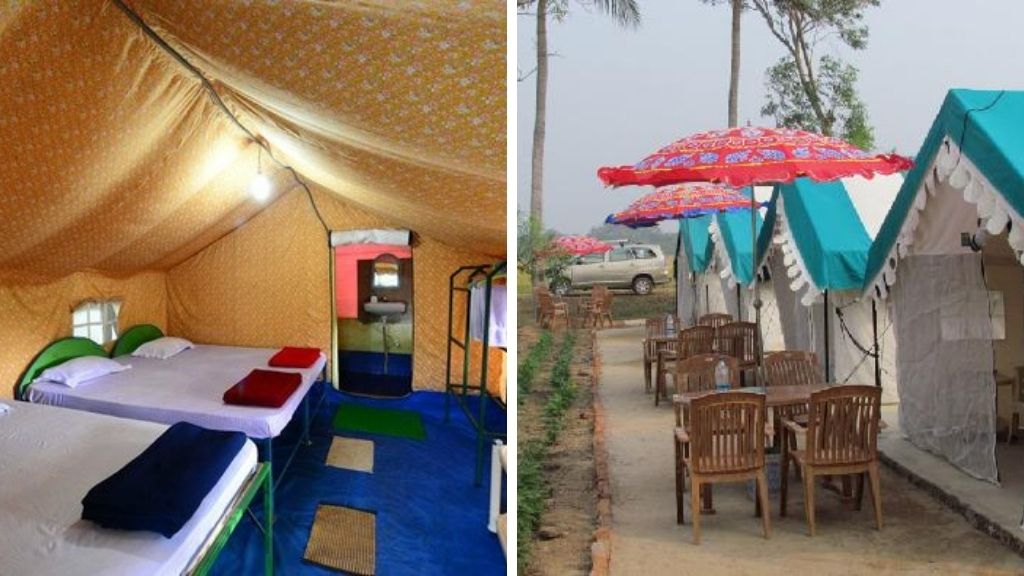 Conclusion
Bhitarkanika is packed not only with the ecstasy for the tourists, but the area also holds paramount importance for the environment.
The roots of mangroves seen here possess the power to hold the earth beneath it with exceptional strength protecting the land from sea tides, cyclones, or calamities.
The place was once a hunting ground where animals were tortured and killed, Now protects them. This is nature, and this is a power it possesses over time.