The world offers amazing travel destinations to spend time with your friends, families, and loved ones. One such place is the Maldives. A holiday in the Maldives can be one of the best decisions in your life. No matter what your age is, holiday in Maldives will cheer you up and create a lifetime memory that you can share with your surroundings and encourage them to go on their adventures.
Let me give you an overview of what you can get by spending your holiday in the Maldives. You will be surrounded and confused in choosing various travel activities like surfing, scuba diving, boating, etc. You will be amazed at the hotels, resorts, and the facilities they provide. The Maldives is one of the dream places for travelers, and I am sure spending holidays in the Maldives is on your bucket list too.
Types of stays to spend your holiday in the Maldives
Beach Villas
Villas on the beach give an exotic feeling. Couples mostly like these villas. A few steps away from the sandy beaches and the nature surrounding it gives a mesmerizing and romantic staying experience.
The villas have a private space (balcony) facing the beach to relax, and their large bedrooms make your stay more comfortable. Apart from these, you get many facilities and amenities, from an outdoor terrace to private swimming pools.
Garden Villas
Garden Villa is surrounded by lush vegetation and shaded by swaying palms. It offers a stunning view of the beach. The villa is ideal for small families and couples. It features an outdoor terrace with a hammock, rain shower, and an outdoor patio.
Beach House
The Beach House at the Maldives offers sea views from the master bedroom. It also has direct access to the beach from the ground floor. The entire beach house is divided into many levels the room like the master bedroom, dining, living, and bathrooms. You will find everything you need, including a pillow menu and an outdoor terrace for privacy and comfort.
Overwater Villa
Imagine you are spending your nights on the sea gazing at stars. You wake up with a view of an amazing sunrise on the ocean. Isn't that amazing?
Such amazing moments you can experience staying in overwater villas. You have direct access to the ocean from your sundeck and terrace. The sundeck has lounge chairs, a hammock, and a sunbed that allows you to soak up the sun.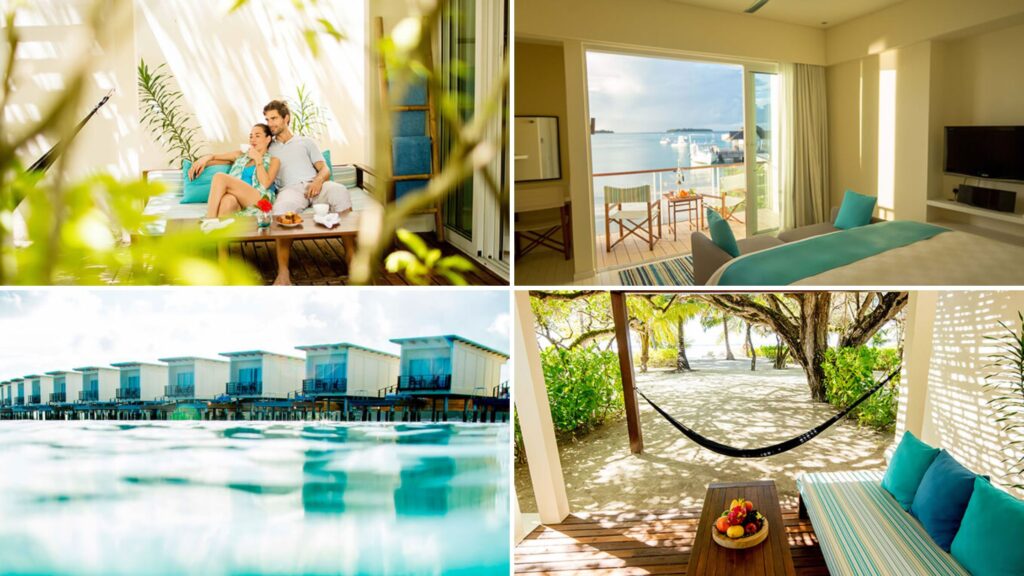 Enjoy holiday in the Maldives with various outdoor activities
Surfing
The Maldives is not just known for its beautiful destinations but also its outdoor activities. In collaboration with the sea waves, Maldives attracts lots of surfers to its suitable surfing spots. The most suitable time for surfing is from April to October when the waves are at their highest heights. You can also book a surfing package where you get guidance on how to surf in the sea from expert coaches and instructors.
Diving
Deep dive into the depth of the Indian Ocean and explore the underwater beauty and treasures. The view of colorful fish, from bannerfish to reef sharks, will blow your mind. In addition, you will see some exotic marine life creatures that will make your Instagram post go viral.
Wedding
Yes, destination weddings in the Maldives are also famous. The memories of my wedding on the sand of Maldives cheer the couples throughout their lives. There are many resorts and hotels that arrange wedding ceremonies, anniversaries, and honeymoon packages.
Wellness
Surrender your mind, body, and soul for complete relaxation. Forget the tensions and worries of your workplace. Wellness facilities like spa, Zumba, and yoga on the seashore give an ultimate peace away from the stress of city life.
Book Maldives Best Holiday Packages
Maldives Holidays – A holiday in Maldives is a unique experience. It's a vacation destination which has an aura of calmness and tranquility, and where you can find yourself immersed in its pristine beauty. There are numerous islands in Maldives, but only a few of them are inhabited. The rest of them are uninhabited and remain untouched by human hands. Maldives offers a variety of adventure activities that you can enjoy while on your vacation.
We have listed top Maldives holiday packages and best Maldives holidays packages for you to choose from. We have also included the list of Maldives resorts that offer special deals during the summer season.
Top destinations to spend your holiday in the Maldives
Dhaalu Atoll
Atoll means a ring-shaped Island. Dhaalu atoll is one of the most attractive destinations in the Maldives. It covers 14 miles east to west and 24 miles north to south. There are 56 islands in Dhaalu atoll, but only seven inhabited areas with a population of 6000+. The capital of Dhaalu atoll in Kudahuvadhoo. Travelers from different countries love staying in the resorts of Dhaalu atolls.
Male, holiday in the Maldives
The capital of Maldives, Male, is a beautiful natural paradise filled with lush island vegetation and stunning beaches that are a treat for the eyes and the senses. Male City is blessed with numerous attractions that range from picturesque parks to heritage museums and some of the finest art galleries.
The city also has the Artificial Beach, where you can participate in various thrilling water sports like kayaking, swimming, or wakeboarding. If you're a foodie looking for a place to eat, you're in for delight because the city is home to many of the most vibrant eateries and cafes that offer many delicious dishes.
If you're looking for excitement and enjoyment, You can take part in various thrilling things within Male Maldives, ranging from fishing, swimming, or participating in parades and carnivals.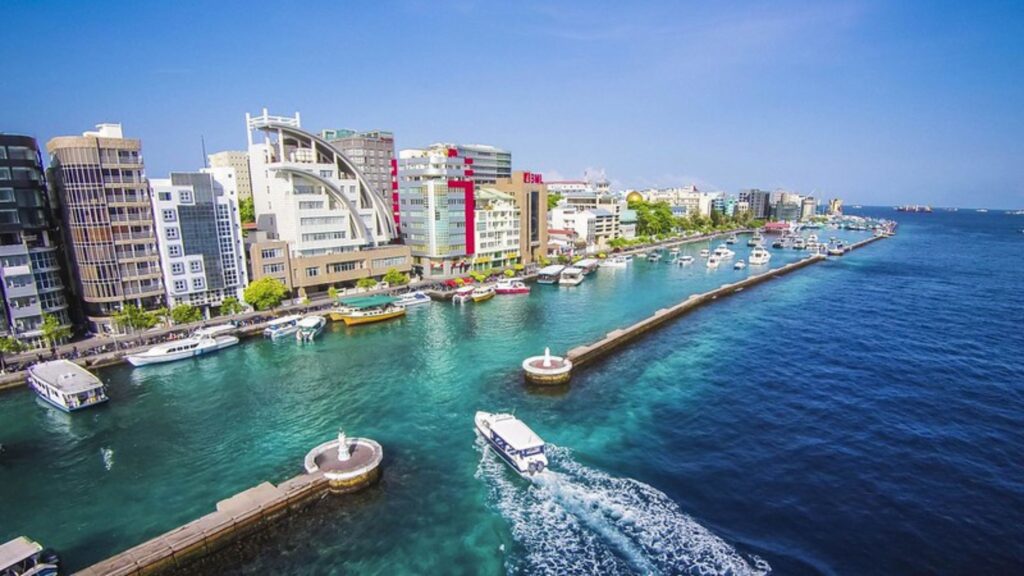 Maafushi Island, holiday in the Maldives
Maafushi is a stunning island located in the Maldives with a population of just a little over 2,000. Tourism is the main source of income for the Island, with more than 50 guest houses within the region. The region is famous for its white sandy beach, the blue sea, and the enticing coral reefs.
Travelers spend their holiday in Maafushi Island, Maldive, for certain reasons like sandy beaches, local food, relaxation on the Bikini beach, Souvenir Shopping, and water sports activities.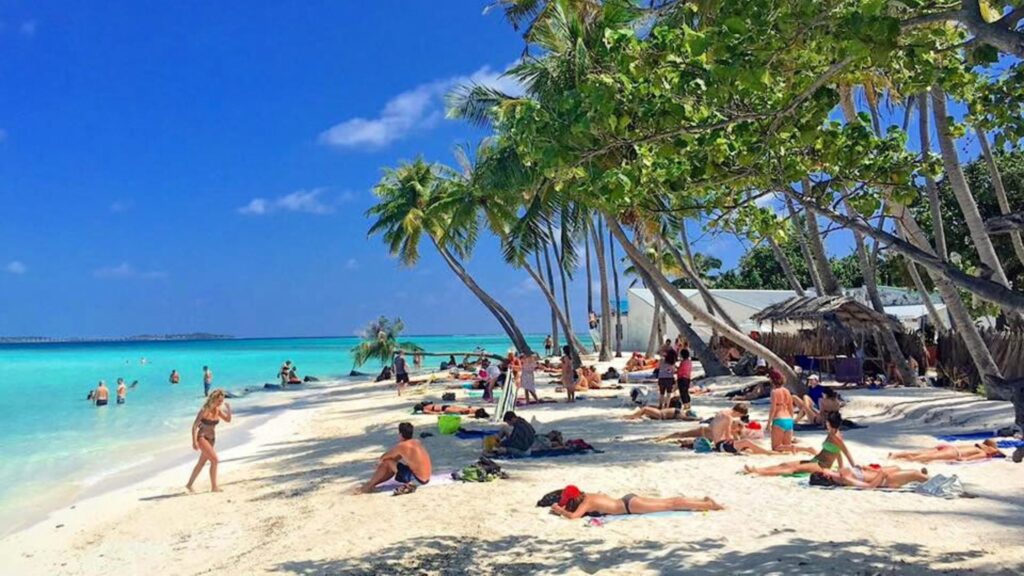 Hulhumale, Maldives
It is a beautiful beach with stunning views of the Indian Ocean right in front of you! The beach is nice and clean. Hammocks are available throughout the beach for you to relax and enjoy. All hotels and restaurants are within walking distance from the airport and close to Hulhumale Island.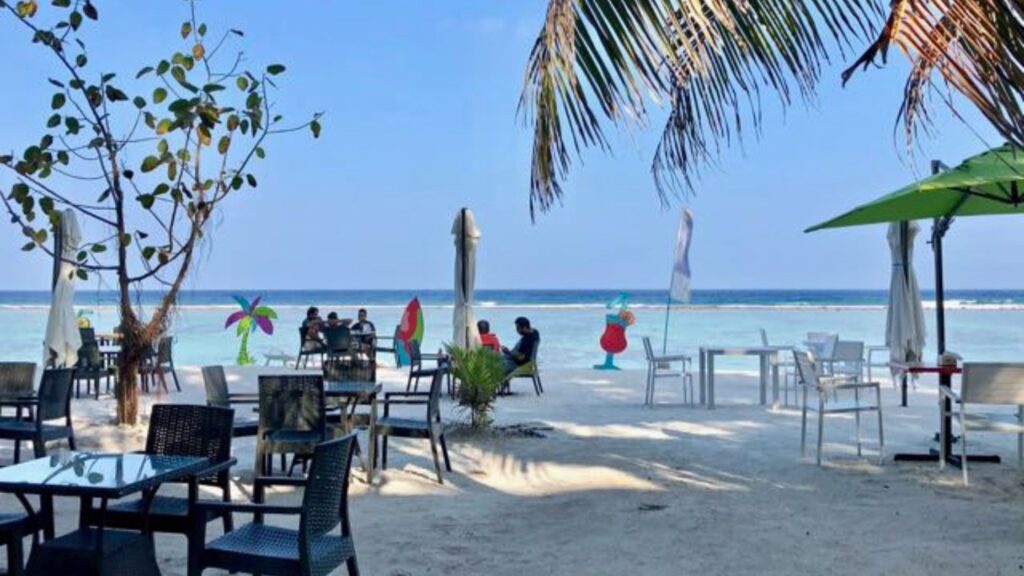 Huraa, holiday in the Maldives
21 k.m away from the capital of Maldives, Huraa Island falls between Himmafushi and Thulusdhoo islands. This Island has a population of around 750 only. Due to the natural mangrove reserve, it's a suitable place for vegetation and also provides shelters to many species of birds.
Huraa Island is famous for a portion of the beach called Bikini beach! It's in the north part near Pearl Sand of Maldives hotel. Travelers usually spend time relaxing on the beach wearing bikinis, but the village side is not so developed. Ladies wear covering clothes there.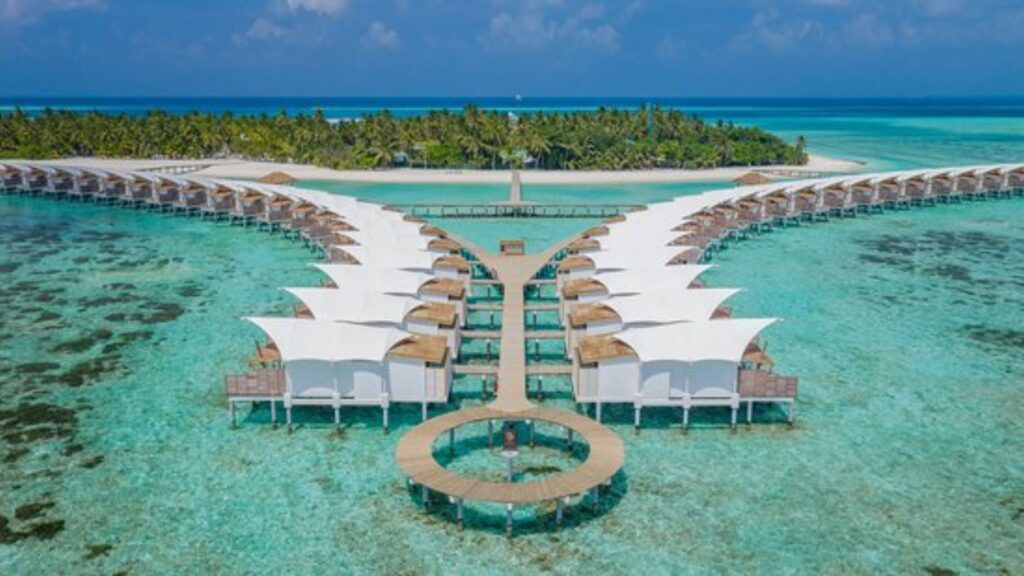 Ukulhas, Maldives
It is an eco-friendly island with one of the top bikini areas to relax. The primary reason to visit Ukulhas Island is its bikini beach, lined with sun beds and sprinkled with umbrellas. Ukulhas is famous for its clean waste management system.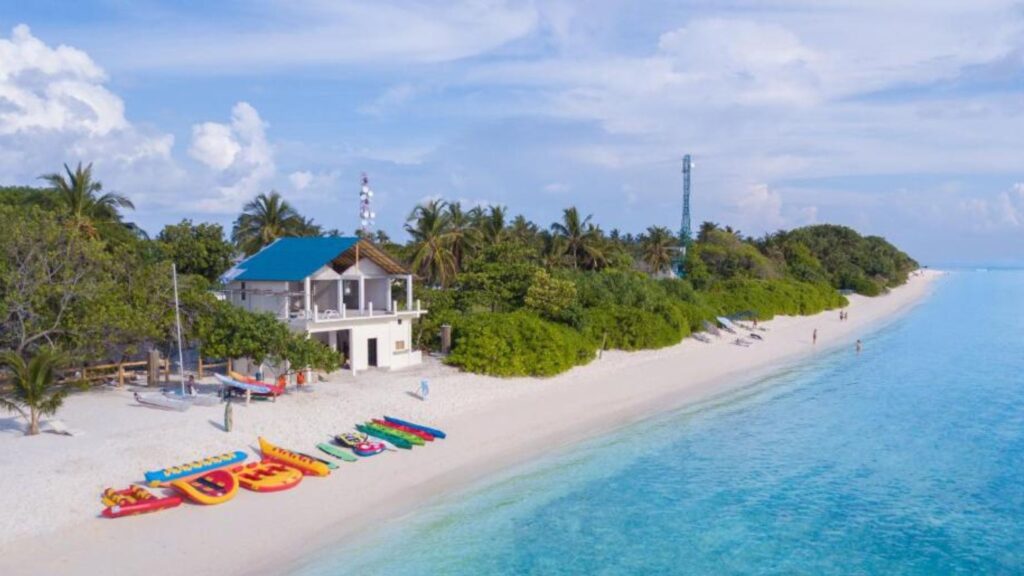 Thoddoo, holiday in the Maldives
It is comparatively a large Island divided into three parts. One-third is for farmers, one-third is for villages, and the rest is a jungle. It is 67 k.m far from the capital, Male, Maldives.
People usually enjoy snorkeling on the beach, cycling, dolphin safari, scuba diving, local farmer tours, and many more. Here the current of the waves is high, so be careful before you move into the sea.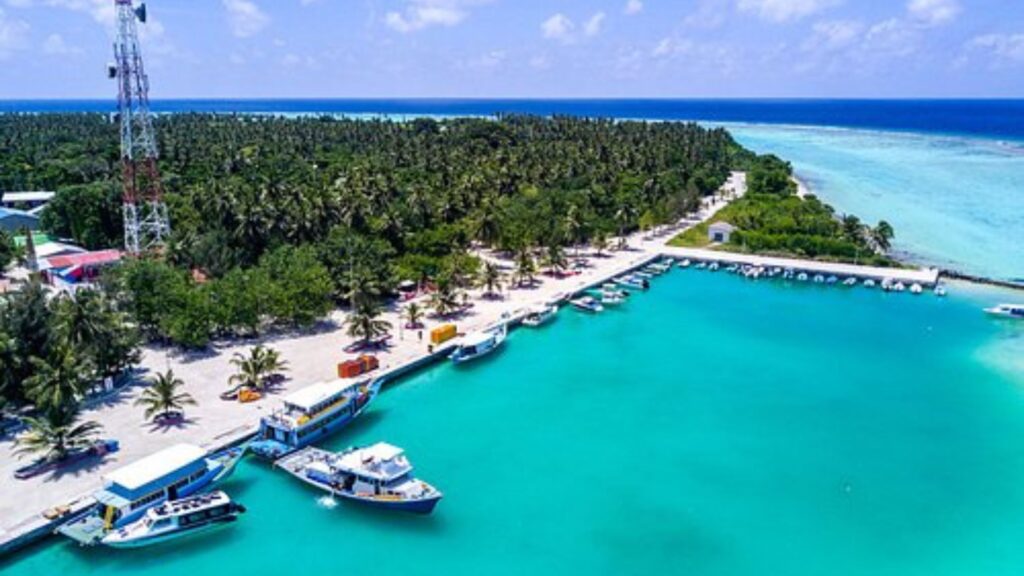 Thulusdhoo Island, Maldives
Thulusdhoo is a small Island situated 23 k.m far from the capital city, Male. Thulusdhoo is home to the best of the Maldives: crystal clear water blue lagoon, clear turquoise waters with a white beach.
Residents paint their doors and homes with vibrant colors to enhance their natural splendor. The roads are not paved and sandy.
Apart from beautiful beaches and travel activities, you can enjoy your stay at amazing hotels and resorts.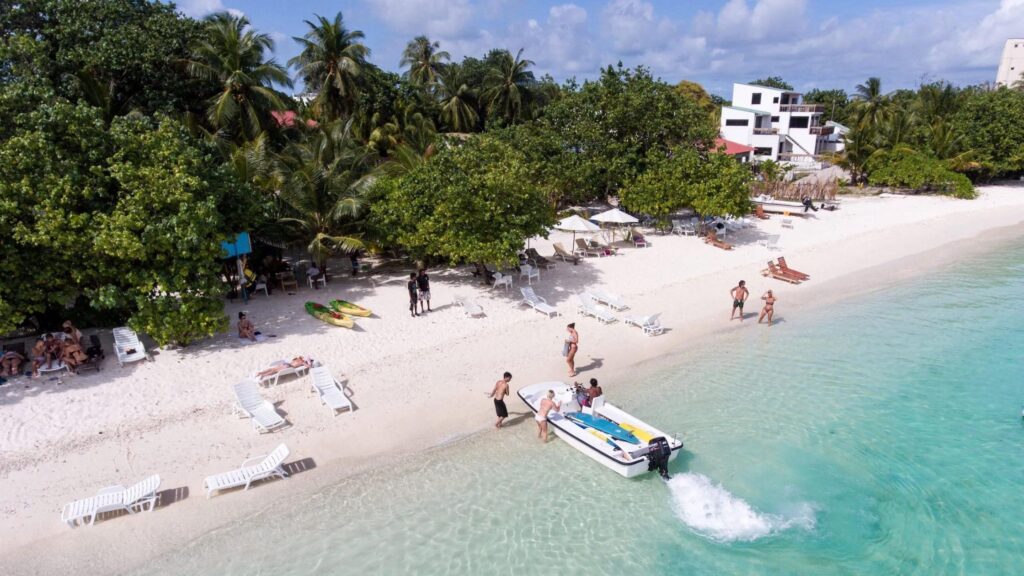 Thinadhoo Island, holiday in the Maldives
The Island is probably 500m long with facilities of sunbed, hammocks with umbrellas are provided to the tourists who want to have a sunbath or want to relax. Activities like Maldivian fishing, snorkeling, diving, and watersports drive travelers to spend their holiday in Thinadhoo, Maldives.
Guesthouses and hotels in Thinadhoo pay close attention to the standard of services they provide, the beach's cleanliness, and the Island itself. Below are some listed hotels to spend your nights.
Dhigurah Island, Maldives
You might have seen some travelers' pictures or videos swimming with mantras or whale sharks. Yes! This is the Island to experience the same. In 2017, Dhigurah was listed as a top 50 best Island in the world.
The village here has 600 people whose income comes from fishing, woodworking, and boat building. Try famous Dhigurah cuisines at Hermit's, Absolute thali, Malaveli Restaurant, Allegria, Reef, and Suan Bua Thai Restaurant.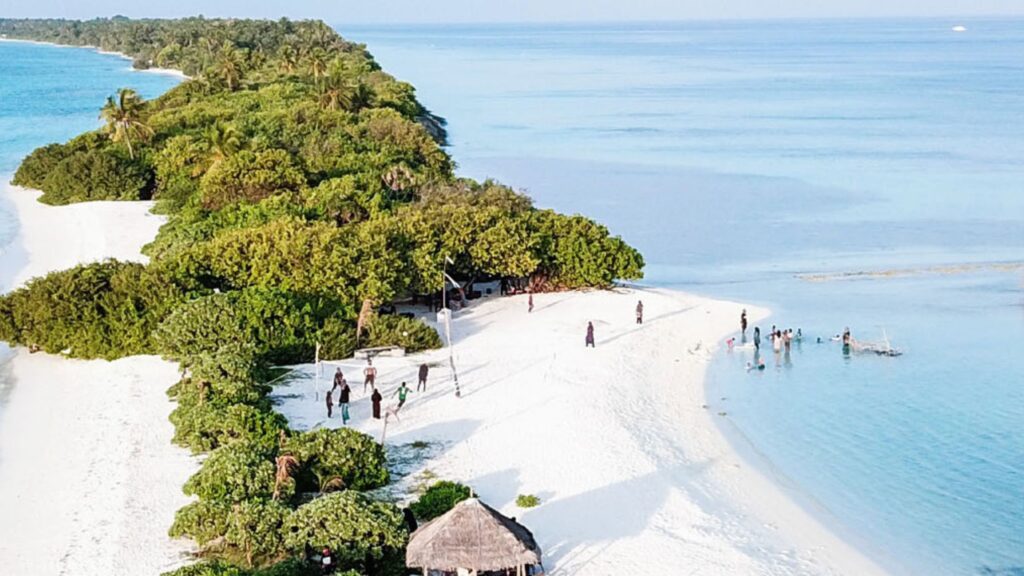 Amenities and Facilities you get in these hotels and resorts
The resorts are extremely well-organized and clean. The staff is so friendly and helpful. It's an excellent location to unwind and enjoy your time away from the city and the noise. Below are some amenities you can avail yourself from these resorts:
Master bedroom, King size bed, 24 hours wifi, AC and fan
Mini bar, Swimming pool, and Private space
Terrace and Overwater hammock
Sun deck, sun bed, and many more.
Conclusion
Apart from these destinations, Maldives offers ten more Islands where travelers can spend their holidays. We will be covering that in our next blog. So, subscribe to our newsletter and get updates about such informative blogs on travel destinations.
Above 10 Islands are highly recommended by the Recipe of travel to spend your holiday in the Maldives. The Maldives is a paradise, and hardly anyone will hate to travel here.
I hope this blog helped you to choose your destination to spend your holiday in the Maldives. See you in our next blog. Till then, stay connected and stay safe. Happy journey!