After weeks of wedding planning, you and your spouse finally get to enjoy a well-deserved honeymoon. But where should you go? If you're looking for beautiful scenery, luxurious accommodations, and plenty of romantic activities, look no further than in Bali. This Indonesian island, Bali for Honeymoon, can provide you with everything you need to plan a dreamy vacation.
It's no secret that Bali is among the most favoured honeymoon destinations. Bali is well-known for its exotic and soothing beaches. Natural sites and their distinctive culture and, the colourful ceremonies can take you to a different world. From the beautiful coastal scenery to the deep-seated rain-forest and the sunrise from the top of the volcanic mountains of Bali can be a rewarding experience for you. You will also get to witness some beautiful temples that will give you serenity of mind and can also explore places to visit in Bali.
There are no better romantic locations on earth than Bali, where long deserted beaches beckon you and your partner to walk for hours at night together, and enjoy the comfort of having a candle night dinner with the sounds of tranquil waves while gazing at the stars.
The spectacular rock formation will allow you both to have a glimpse of the most romantic sunset while having a cup of coffee in your luxurious villa. There are some places to visit in Bali where couples can get plenty of little gorgeous hideaway spots. Choosing Bali for Honeymoon can be the best revelation for your soulmate.
With its gentle climate and breathtaking views, it is one of the loved destinations for honeymoon couples. There are certain places to visit in Bali for Honeymoon that you need to recollect while planning for your trip.
Mount Batur – Perfect Place in Bali for Honeymoon
For honeymooners looking for an unforgettable experience, Mount Batur is a must-visit destination. Situated in the majestic Kintamani region of Bali, Mount Batur offers stunning views of both the volcano and the surrounding countryside.
The area is also home to a variety of outdoor activities, making it the perfect place for couples to explore and connect with nature. Here, you can enjoy a romantic hike together, or simply relax in the natural hot springs. So for a romantic vacation you must choose Bali for Honeymoon.
Uluwatu – Beautiful Place in Bali for Honeymoon
Uluwatu is a small town located on the southeast coast of Bali, Indonesia. It is a popular tourist destination. The town is known for its surfing, and it is a popular spot for couples to go on vacation. What can be more beautiful for a newly married couple than to receive God's blessing on their new journey?
Uluwatu temple, popularly known as Pura luhur Uluwatu is one of the must-see temples in Bali, located on the south-western edge of a limestone cliff that is surrounded by lush greenery forests. You can witness the most pleasing sunset view from there with a Kecak dance performance which is usually held at the amphitheatre nearby.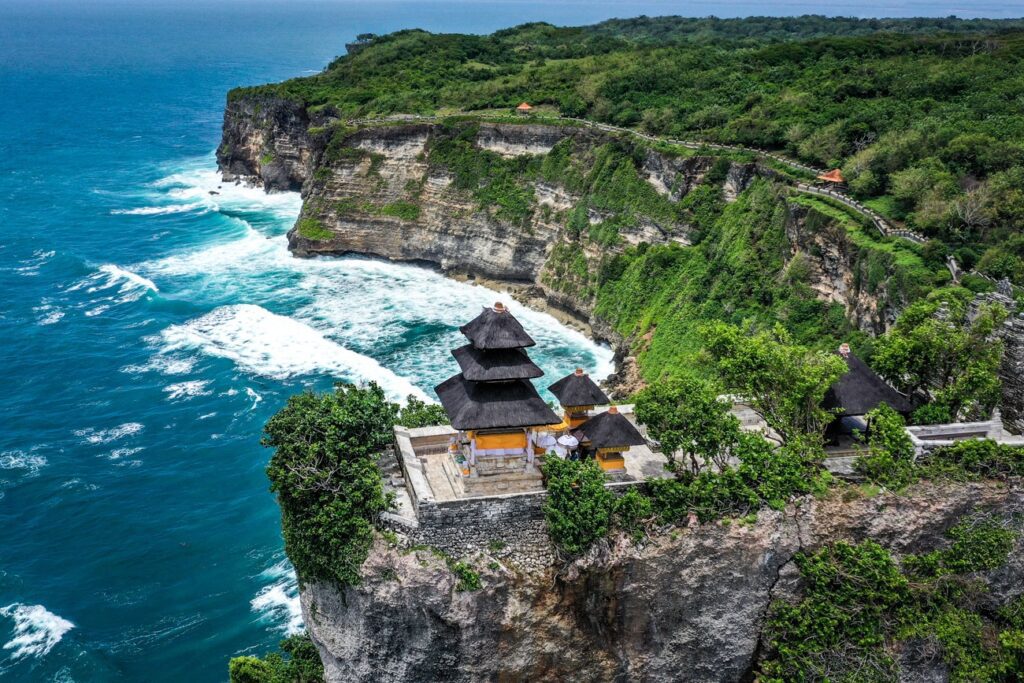 Ubud – Intimate vacation in Bali for Honeymoon
Situated in the heart of Bali, Ubud is a town that is renowned for its natural beauty, its many cultural attractions, and its laid-back atmosphere. It is no surprise, then, that this town is also a popular choice for couples looking for a romantic getaway. The serene and natural beauty of the landscape provides the perfect setting for an intimate vacation.
Some of the reasons why you should choose Ubud for your romantic destination are you can explore different activities like visiting Tegalalang Rice Terrace, Cycling around Ubud, Watching traditional performances, Learning traditional performances and crafts, and visiting museums and galleries and Cultural and spiritual landmarks.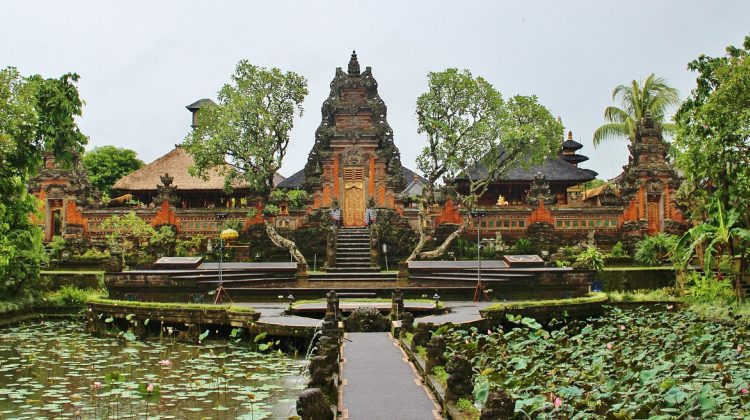 Kuta – Beautiful Beach in Bali for Honeymoon
For newlywed couples, Kuta is one of the must-visit places. Kuta is a beautiful beach town located in Bali, Indonesia. The town is full of white sand beaches, clear blue waters, and stunning sunsets.
Kuta is also a great place to surf, with waves that are perfect for beginners and experts alike. It is also a great place to shop for souvenirs. If you are looking for a place to honeymoon, Kuta is a perfect choice. Bali for Honeymoon Trip will bring you closer to your partner where you both can get to know each other and this will make your relationship stronger.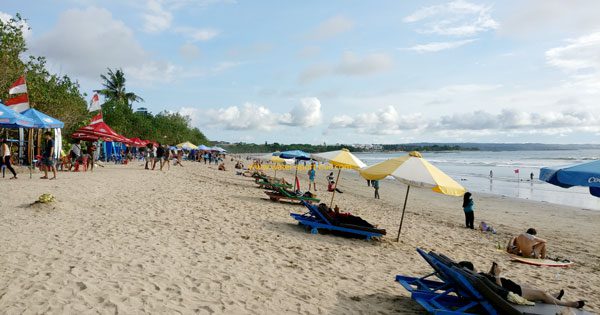 Pura – Beautiful Balinese temple to visit with your Partner
Pura is a beautiful Balinese temple that is perfect for your romantic honeymoon destination. The temple is located in the heart of the island, and it offers stunning views of the surrounding landscape.
The temple is also home to a variety of unique Balinese ceremonies and events that you can participate in. If you're looking for a romantic honeymoon destination that's off the beaten path, consider exploring Pura in Bali.
Nusa – Most Famous Place in Bali for Honeymoon
Nusa in Bali is a famous spot for honeymoon couples. It is also one of the most popular tourist destinations in the world. Nusa in Bali offers a wide range of activities for couples to enjoy, from the secluded beaches to the vibrant nightlife. It is also a home to some of the best restaurants in Bali, making it the perfect place to celebrate your love.
The island is known for its natural beauty like the beautiful beaches, clear water, and lush jungle. Nusa island is divided into three mini islands among them Nusa Penida is the most favourable one and is known for its raw beauty and salubrious and delightful climate. It is a must to visit Bali for Honeymoon for an unforgettable experience.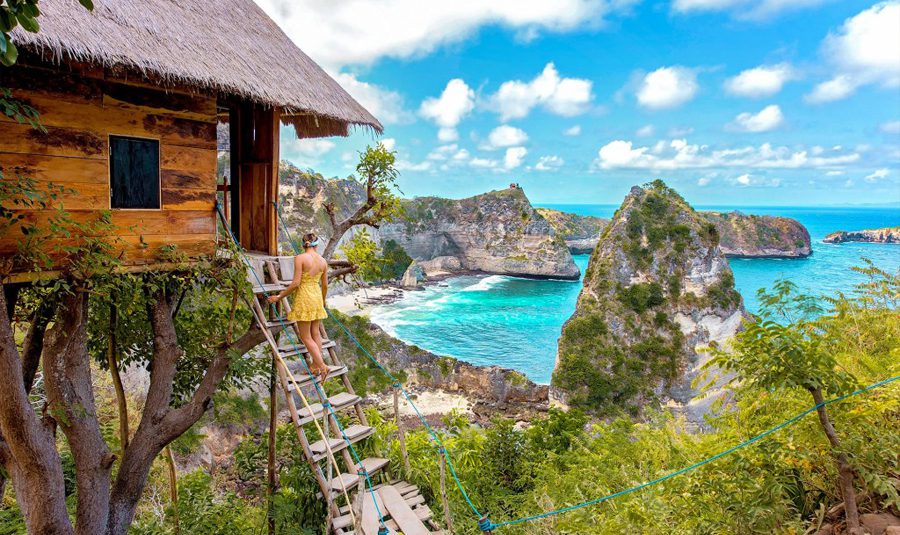 Seminyak – Honeymooners' Paradise
Seminyak in Bali is often called the honeymooners' paradise. And it's no wonder why – the beautiful beaches, luxurious resorts, and romantic sunsets make it the perfect place to start your life together. If you're looking for the best resort in Bali for honeymoon tour, look no further than Seminyak.
The resort in Seminyak was popular for its blend of contemporary decor with traditional touches and modern conveniences. Having the innovative selection of Asian and European cuisine followed by a delicious dessert here you can enjoy the most authentic dinner with your beloved soulmate.
Lemouyang – Romantic Gateway in Bali for Honeymoon
Bali is well known for its beautiful beaches, tropical climate, and unique culture. But did you know that Bali is also home to the gateway of heaven? Lemouyang in Bali is a popular tourist destination for couples looking to enjoy a romantic getaway. It is said that if you and your loved one can pass through the gateway together, you will be blessed with happiness and eternal love.
So I guess you really want your new life to start with some blessing and happiness right? What are you waiting for then go for the places to visit in Bali.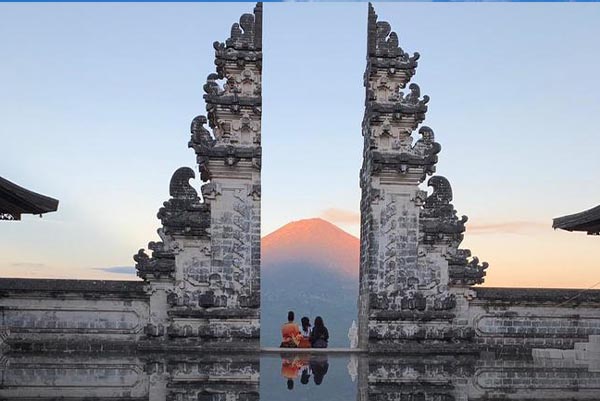 Sanur – Popular Couple Destinatio
Sanur beach in Bali is a popular destination for couples. With its white sandy shores, serene waters, and stunning views, it is no wonder that this place is so popular among lovers. If you are thinking of spending some quality time with your better half, then Sanur beach is the perfect place for you. There are plenty of restaurants and cafes to enjoy, as well as activities such as swimming, surfing, and sunbathing.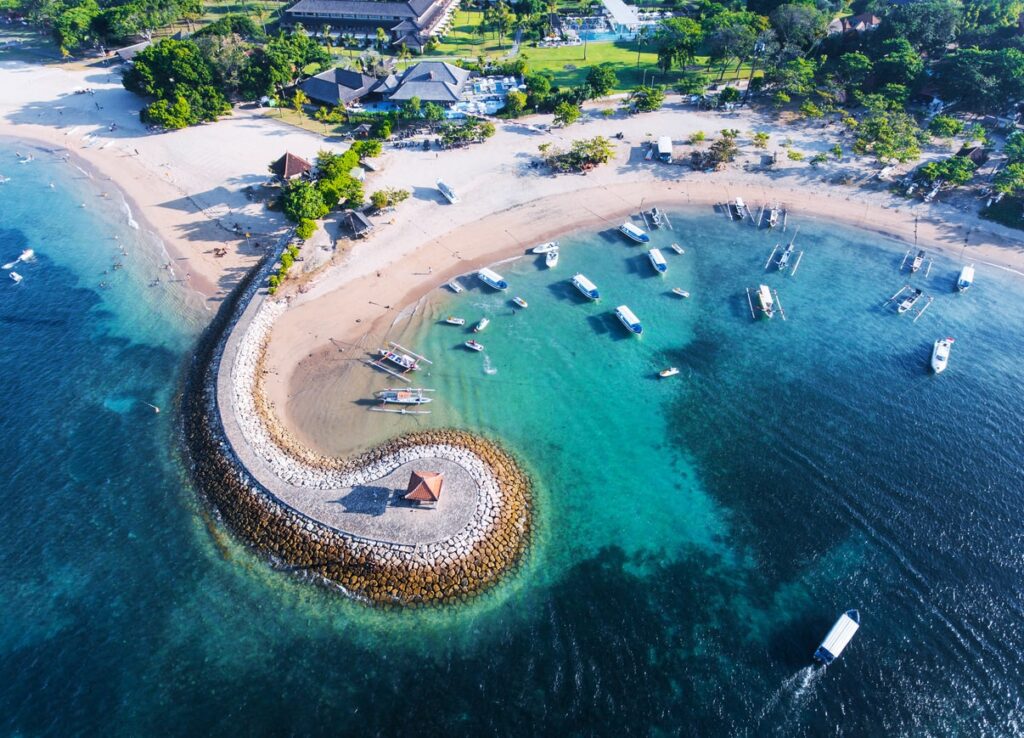 Stunning Sekumpul Waterfall in Bali for Honeymoon
The ultimate glory of Bali is Sekumpul Waterfall. It is a collection of 7 falls having its own beauty and height and looks extraordinarily beautiful as coated with the lush green forest. Getting down required a lot of effort as the slippy path makes it quite difficult for you to reach the destination, but believe me, once you reach the destination, it will be worth it.
And I personally believe that journey is always more important than the destination and the Bali for Honeymoon trip will prove this proverb . On down, you can have the perfect picture spot where you can make enormous memories with your loved one. The sound of the thundering waterfall and the chirping of the birds' conjointly feel like you are in a fictional world.
Bali is known as the Lands of the Gods because you can find many beautiful temples there of different sizes and shapes. But with that, you can also explore many places in Bali for Honeymoon. So, don't wait for the right time, if you want to start your married life with some beautiful memories then plan as soon as possible.
The island is a pack of beaches starting from the super-crowded gold-brown beaches of Kuta to miles-long stretches of deserted beaches with black sand and spectacular rock formations. You can do a lot of water activities like snorkeling, surfing, river rafting, etc on those beaches.
A deep-hidden waterfall is present in the mid of the island where you can go and relax for some time. After hiking, when you go and spend some quality time, the small droplets of the waterfall touch your face, and the light breeze gives you a different feeling. You will never be able to forget such an experience, that's for sure!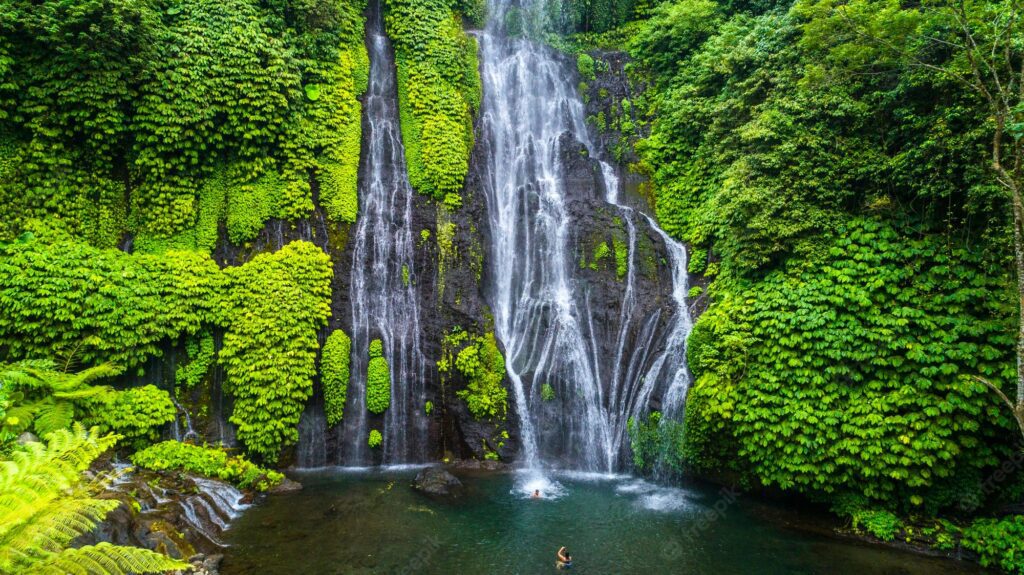 Summary
So I can only recommend you that if you really want to surprise your soulmate and make them realise that how special they are, then making a trip to Bali for Honeymoon can be the best way to show your love for them. Hopefully my blog helped you to decide your honeymoon destination. If you like my blog then do share and comment so that we can bring more informative blogs for you.