They say that love is in the air, but then what if you find it on beautiful turquoise water. Yes, you heard it right, The best resorts in Maldives will make you fall in love again. It is famous for its mesmerizing coral islands, encompassing lush green forested terrains, white-sandy beaches, and the bluest of waters.
Apart from its pleasing landmarks, Maldives is also famous for its water sports and adventure activities. So, If you are planning for your honeymoon then there cannot be a better place than this. Situated in the southwest of Sri Lanka and India, Maldives is one of the places which is loved by Indian tourists. It takes almost 3 to 4 hours to reach Maldives.
The most important thing to do while planning for a trip is, at what place you want to stay and which are the best resorts in Maldives. And I think you are still confused?
First, you decide which place will be best for your partner and where you can spend some quality time. And if you are a very romantic person and want to create some beautiful memories then I guess you need to prepare something special for your partner.
You can find some ample residences set on the beachside or private retreats on the exclusive niche of gracious seclusion. The beautiful villas offer privacy yet open up an area where you can enjoy the private pool and the mesmerizing view. You can have a romantic dinner, a couple of massages, and stargazing near the beach.
The Maldives is known for its one island and one resort concept. You will get the best resorts in Maldives and complete privacy here, which is one of the main reasons why couples mostly choose the Maldives as their honeymoon destination.
Milaidhoo Island is one of the tiniest tropical islands, where you can explore a rare-green-beryl drop of paradise wrapped with soft white sands, surrounded by beautiful coral reefs, and lapped by the warm turquoise water. It is one of the most popular spots in Maldives.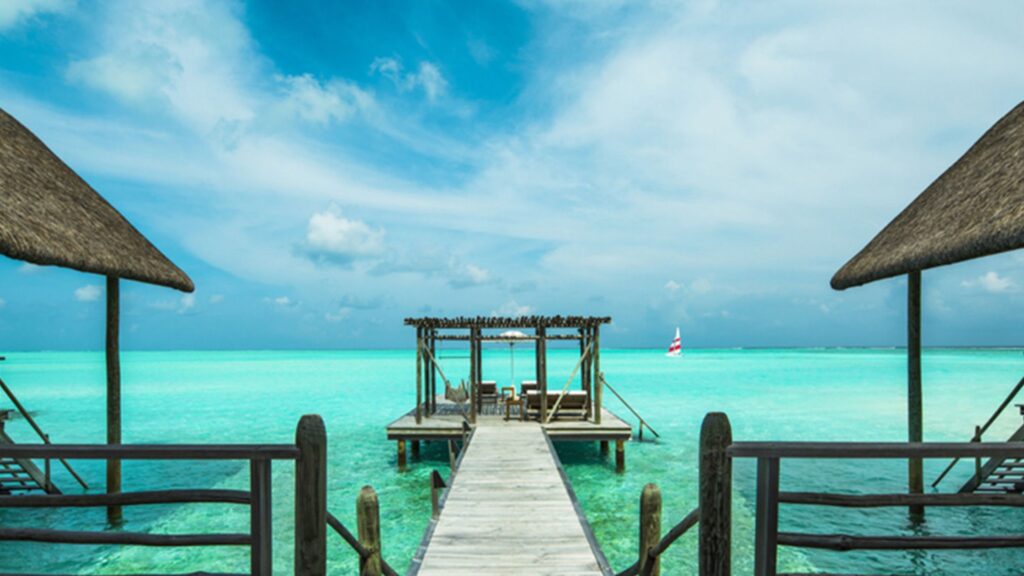 Best Resorts in Maldives for Honeymoon
Kandima Maldives
Considering one of the best resorts in Maldives that offers stylish and luxurious accommodation, then you've come to the right place. Here you will get the most affordable lifestyle. Having 264 stylish designed studios and villas, 10 extraordinary dining venues, and space for fun-packed activities, it is one of the most favored retreats among the tourist.
This is open to all visitors with different budgets. You can come with your family, partner or with friends, and the most interesting thing is that you can seek romantic escape, spa getaways, fitness activities and many more with your loved ones. Located on the largest island in Dhallu Atoll, here you will get the best experience with your partner.
Six senses lammu – Best Resorts in Maldives
With turquoise waters and white sand beaches, Lammu Atoll is surrounded by a variety of attractions. It is one of the untouched islands of Maldives. One can take a speed boat to reach there as it is nearly 2 hr away from the Male Airport. While going to the island you can see luminous aquamarine waters with crystal clarity lap upon these dazzling white shores which brings you the best experience.
The Six Senses lammu is the ideal resort for families and couples, you can experience many things like open-air movies, spa and yoga sessions, and an on-site diving center. Most importantly all its villas are beautifully designed having an outdoor bathroom with rain showers where guests can shower under the stars.
What can be more romantic than this for a honeymoon couple? With all this, it has 9 eateries including the 2-story overwater longitude and the zero-carbon deck-a-dance.
Hurawahi Island Resort – Best Resorts in Maldives
Hurawahi is one of the best resorts in Maldives and in this resort, I think your wishlist is going to be fulfilled very soon. Hurawahi is just like your love story. You can relate to each of your emotions from this place. It is a perfect match of serenity and excitement, comfort and adventure, where you will get an outstanding experience, your mind will be wandering and your heart will be romancing. Here you can make a genuine connection with your partner and create unforgettable memories.
Hurawahi is situated on Lhaviyani Atoll island. This island is famous for its protective lagoon, an excellent house reef, and encircling white sandy beaches, edged with palm trees. If I have an option to choose, I might go for this as in the end I want to create some beautiful memories with my partner and this is just the perfect place for that.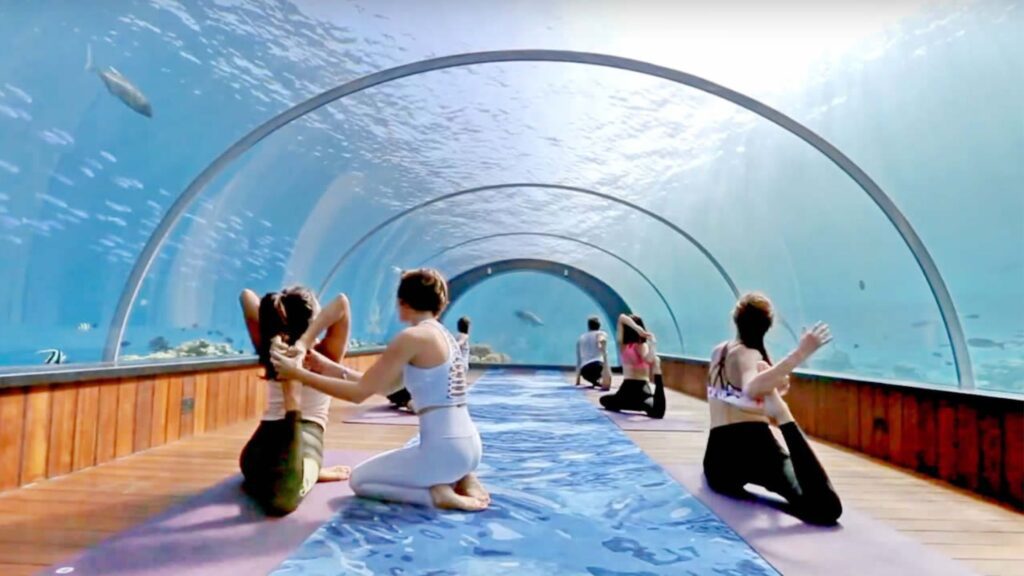 Reethi faru, bio luxury resort
Damn I really want to make this special but not getting any idea, are you still confused about what can be done. Reethi Faru is one of the brand new resorts situated northwest of the male airport and takes only 45 minutes to reach. For nature lover dendrophiles, it can be the best retreat. It is a one-of-a-kind tropical fairyland, where you can find lush palm and coconut trees. The gleaming crystal clear ocean meets the endless white coral sand, and it truly turns into a magical flash.
From the moment you step into its crystal clear light blue waters, the soft sands are touching your toes and tempting you to rest for some time. It is one of the best resort in Maldives and has six restaurants and six bars which are beautifully designed and crafted. You can enjoy the underwater world, the water is freezing and it is completely a whole new world which you will experience. This place is the perfect match for luxurious villas and Captivating natural beauty. They are offering delectable dishes, alongside live grills and boutique international cuisine, cocktails, fresh fruit smoothies, and fine wines, in a comfy atmosphere.
Adaaran prestige water villas
Addaran resorts are famous for their beautiful wooden interiors. You can enjoy the beautiful sun deck with blue crystal ocean water right in front of you. Here the villas are built over the Indian ocean with the glass panel on the surface. You can have a glimpse of water waves and dazzling sunlight while sitting on the panel. The resort features an outdoor pool, a personal butler, and meals made to order. You can take a direct flight from Male Airport which is 45 min away or can also hire a speedboat to reach here.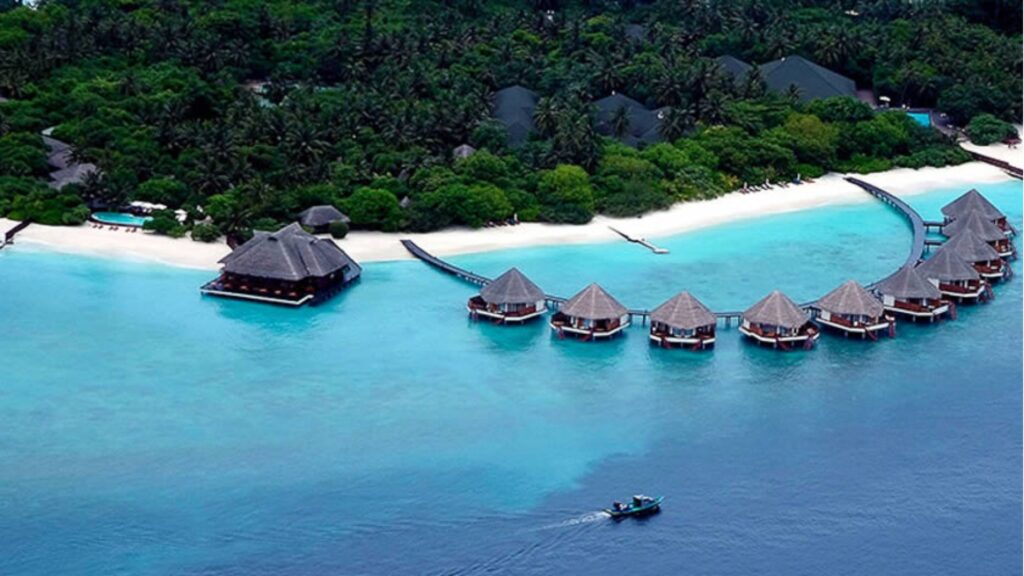 Emerald Maldives resort
There is no better way to illustrate the harmony of water with nature than Emerald Maldives Resort. You can find alluring villas nearby the beach which is made with bamboo, natural stones, and Langhi. Langhi leaves combine the tropical atmosphere with modern design architecture.
The emerald Maldives is the best resort in Maldives and will be the perfect choice for you. Honeymoon as here you experience luxurious accommodation and facilities, a rich Deluxe All-inclusive package, surrounded by beautiful pristine white beaches, clear Blue Ocean, and tropical nature.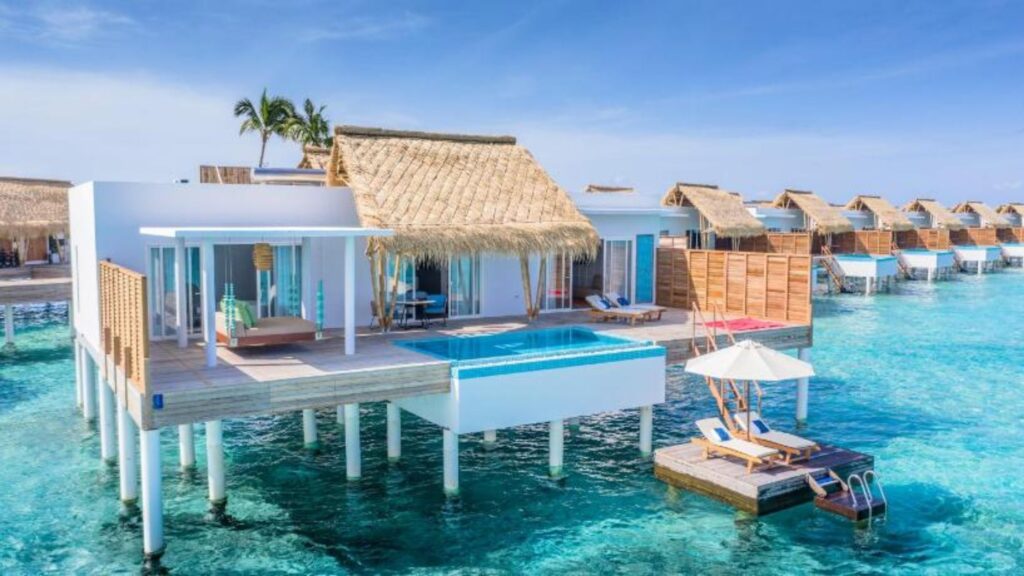 Vakkaru Maldives
Vakkaru Maldives is a complete gateway to a natural paradise. It has 113 beach villas and overwater villas that have an authentic design. This beautiful island is surrounded by bluish-green turquoise waters and coral reefs, and you can do a variety of watersports here as well. Egyptian featured beds and cotton sheets give an elegant view to the space which is completely different from other resorts and because of this it has its own significant interiors.
Bathrooms include a separate bath and shower with a rainfall showerhead, bathrobes, and complimentary toiletries. With that, rooms include bottles of water and a hairdryer which is a kind of token of care from Vakkaru the best resort in Maldives. The nightly services and house cleaning services are also included in that. The resorts have five restaurants, two bars, over water gym and spa, a water sports center, and a reception center. A special arrangement was also there for honeymoon couples.
Joali Maldives – Best Resorts in Maldives
You have always dreamed of visiting that dream place, what if you actually got the chance to do so. Jolie Maldives is a nature immersive well-being island retreat situated on the shore of Raa Atoll which is almost 45 min away from the Male airport.
A relaxing and peaceful vacation awaits you at this best resort in the Maldives with its absolutely dreamy villas. Here you get the wisdom of sea and sand, sun and stars weave. You can enjoy different adventures and water activities here, like water surfing, scuba diving, zip-lining, and many more.
Jolie offers two islands while both are enfolded with lush palms and bluish water, each has two distinct identities. Here couples can experience a beautiful form of art by nature that will indulge in their mind for a long time. The second property otherwise known as the sister property has nature-guided villas. Which will bring guests on a transformational journey.
Soneva Fushi
Soneva Fushi is one of the two so neva best resorts in Maldives which is situated on the largest island i.e. Baa Atoll. This resort holds a magical roller coaster of an experience, from dining on the treetops to barefoot walking on the desert islands with your partner.
Each and every experience is completely new for you and you will definitely gonna enjoy and remember it for a lifetime. Hanifaru Bay is just 15 minutes away from the resort. This bay is popular for its crystal blue water and here you can also swim with giant manta rays as well as whale sharks.
Much of the island is untouched by local vegetation and wildlife. The villas of Soneva Fushi are eco-friendly having beachfront views. It has 1 to 9 bedrooms with a beautiful view, a swimming pool, sustainable wood furnishing interiors, lots of relaxation areas, and beautifully decorated beds for the honeymoon couples. So, if you are looking for a luxurious holiday with your partner, then this might be the best place for you.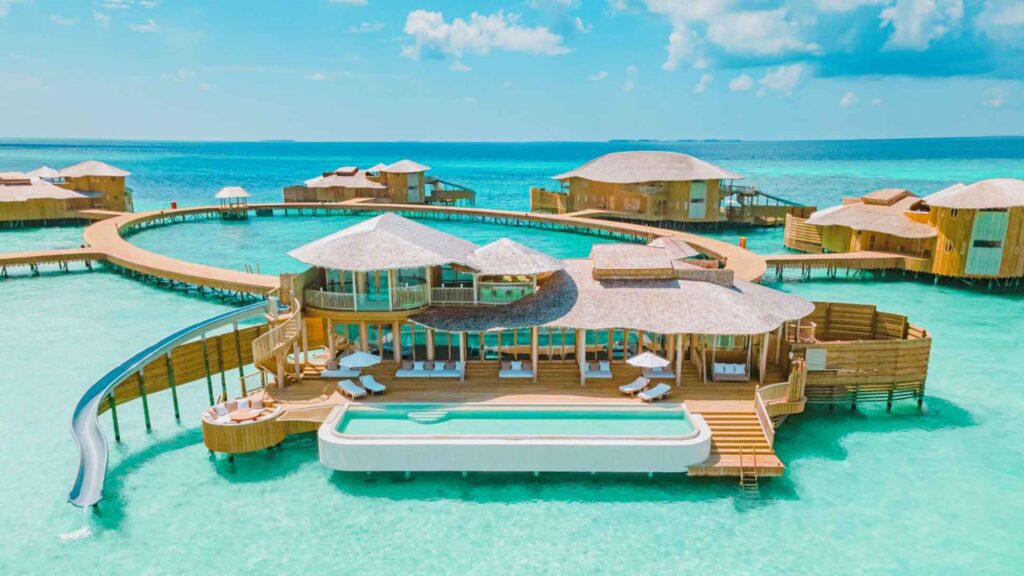 Baros Maldives
Welcome to the land of the tropical paradise of earth. I might be mentioning it last but it is one of the best resorts in Maldives. This palatial residence is adorned with elegant furniture, wooden crafts, and vibrant artwork that give the visitors a warm and welcoming feeling. Having a big green courtyard with a private pool site framed with beautiful tropical flowers brings an unforgettable experience. It is just 25 minutes away from the international airport. It is famous for snorkeling while having a superb house reef in proximity.
Now that I guess you've already decided on your resort in the Maldives, I guess you're ready to get started. Here you can spend a whole week with your partner and can experience its super accommodation, good food, and different water activities. You can also have your complete privacy and quality time. What more can be needed for a newly wedded couple.
You can enjoy a romantic dinner on the beach side with slow music and after that have a barefoot walk on the beach side with your partner. I don't think you really want to miss this opportunity with your partner. Hence, plan your visit to the Maldives as soon as possible and experience its natural beauty. And also, for adventure lovers, I can only say do come to this place for once, you can never forget
Conclusion
I guess the blog helps you to find out the right destination for your honeymoon, and you have already planned the whole trip. If still having some confusion, just comment below.
Thank you for reading my blog I hope it is quite informative and yes stay tuned for more blogs and if you like my blog then keep sharing.