It's now time to fuel your travel dreams, now you don't have to miss the sea more or don't have to wait to feel the sand under your feet. Thailand is the best place where sun-kissed beaches and crystal-clear water make your vacation wonderful.
From beaches and shopping hubs, spa treatments, and delicious cuisine. Thailand is known as the "Land of smiles" and also for its magnificent templates, vibrant markets, street food, and beautiful views. It is a timeless favorite place among travelers worldwide.
Thailand is the best destination for budget travelers, and for those who want to spend a holiday along with the coastlines and is the world's most beautiful honeymoon destination for couples.
Exotic resorts in Thailand
Keemala Phuket Resort & Spa, Phuket
Keemala the luxurious resort in Phuket offers an unforgettable and enjoyable moment in its clay pool cottages, tent pool villas, and bird's nest pool villas, and tree poll houses. Well, you will get the best delicious cuisine by combining eastern and western flavors deliciously. Fun things to do at the Keemala Phuket resort and spa are play frisbee, go for a swim and run around, make a bonfire, take photos, and more. It is among the best resort and spa in Thailand.
Deva Beach Resort Samui & Spa
Located approximately 4km from Koh Samui International Airport, and 6km from the Chaweng region, Deva Beach Resort & Spa can be described as an island resort. Tourists can enjoy a relaxing vacation away from the hustle and bustle of their daily lives at the resort.
You will find amenities such as free parking, high-speed internet, and a pool. There are also bars and restaurants. The restaurant offers fresh, open-air food with breathtaking sunset views. The beach is directly in front of the resort, where you can enjoy water sports and other beach activities.
Hilton Pattaya
Hilton Pattaya can be found at Pattaya beach, which is approximately 1 hour from Suvarnabhumi International Airport. This resort attracts tourist because of the beach where tourist enjoys things like water sports and outdoor activities, spacious rooms, a relaxing environment, a comfortable seating area, a private balcony for each room, delicious cuisine, and an open Kitchen.
Centara Grand Mirage Beach Resort Pattaya
Centara Grand Mirage Beach Resort Pattaya can be found along the Wont Amat or Nakula beaches, which are 3 km from Pattaya Train Station.
Festivals in Thailand
Songkran Festival
Songkran Festival also known as the Water Festival of Thailand, the Songkran festival takes place in Thailand. It is one of the most popular festivals in Thailand and the world.
Lantern Festival
This is a spectacular sight that you'll see in countries like China or Vietnam. People gather at the banks of the Peng River to release thousands of paper lanterns into space and watch them drift away in the evening breeze.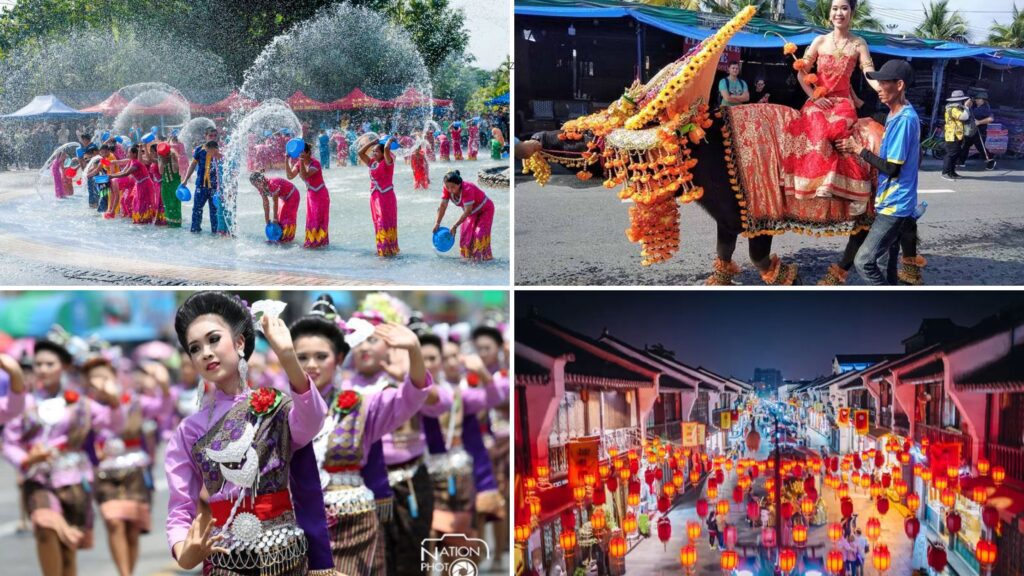 Wing Kwai
This festival is also known as the Buffalo racing festival. Wing Kwai is where buffalo racing takes place.
Boon Bang Fai
This boon bang famous festival in Thailand and also known as the Rocket festival, and is significant for the farming communities of Issan and is located in the northeastern part of the country. This festival is celebrated by shooting up rockets to encourage God to send out plenty of rainfall. This festival was attended by the entire village full of excitement.