Are you looking to explore the vibrant city of Dubai in 2023? If so, you've come to the right place. In this blog post, we'll discuss the best Dubai vacation packages for 2023 and why this is an amazing place to visit. From the magnificent architecture to the bustling nightlife, there are plenty of reasons why you'll have a great time on your next vacation in Dubai. We'll go over the top activities, must-see attractions, and best tips for getting the most out of your stay. So let's dive in and start planning your perfect getaway to Dubai! Read on to learn more about what each package offers and find out which one is perfect for your next trip to Dubai.
Ready to explore some of the most incredible sights in the United Arab Emirates? Join us on this unforgettable Al Ain & Desert Safari 2 Days/1 Night excursion! On this adventure, you'll have the opportunity to admire the beauty of Al Ain city, with its crowning jewel – Jebel Hafeet. Here, you'll be able to take in stunning views of the city from the peak of this mountain. Afterward, dig deeper into the city's history at the Al Ain Museum and the venerated Green Mubazarrah. Then, it's off to the iconic Al Ain Oasis – the largest of its kind in the Emirate – to marvel at the date palm grooves.
When nightfall arrives, it's time to set up camp in the majestic Arabian desert and bask in the beauty of a star-studded sky. Being beneath the desert is something truly spectacular, and you'll be able to explore it with some of its most thrilling activities, like horse riding and dune bashing. To cap off this amazing experience, you can opt to enjoy evening music, flame shows, and barbecued delights, whilst enjoying spectacular views of the bonfire. When it comes time for sleep, you'll definitely have earned some shut-eye!
Rise and shine, and take delight in the dreamy desert sunrise. Afterward, you can top off the excursion with a hearty breakfast. Whether you're an outdoor enthusiast or simply seek to enjoy an enriching experience, this Al Ain & Desert Safari 2 Days/1 Night journey will no doubt be one to remember!
Dubai vacation packages 2023:
Duration: 2 Days
Price: $199
Booking amount: $199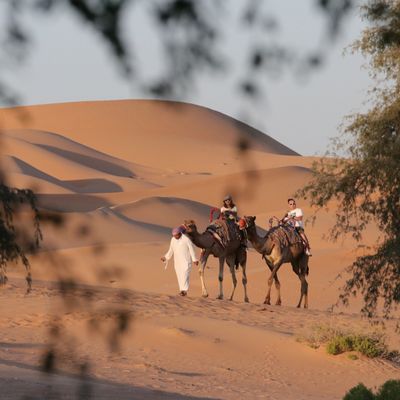 Two Days Itinerary – Dubai vacation packages 2023
Day 1: Full day tour in Al Ain
We'll start off our tour by heading to Jebel Hafeet for unsurpassed views of the city's lush greenery. As you climb the winding roads, you'll soon see why Al Ain is known as an oasis. After that, we'll head over to the Green Mubazzarah Park to soak our feet in the hot springs. It's the perfect way to complete your sightseeing and prepare for a visit to one of Al Ain's most beloved attractions – the Camel Market. Here, you'll be able to interact with some of the locals and learn about the importance of camel trading in the area. The largest market of its kind.
You will be absolutely mesmerized at what it has to offer – from camel vendors selling camels of various breeds, colors and sizes, to the historical Sheikh Zayed Palace Museum and the Al Ain National Museum filled with ancient artifacts. There's so much to explore! And, of course, you have to make a stop at the Al Ain Oasis, where you can admire the incredible palm tree groves whilst taking advantage of the cool shade.
As you work up an appetite, why not enjoy a delicious four-star lunch before heading off on the Oasis Tour – it's an experience you won't forget anytime soon! And, if you're feeling adventurous, why not spend the night at the Bedouin camp in Awir Desert! Trust us, Al Ain will give you an unforgettable sightseeing experience!
Day 2: Desert Safari
Get ready for a magical time in the desert, starting with waking up early to take in the beautiful desert sunrise. In the evening, you'll be treated to an Arabic breakfast, followed by an exciting desert safari. You'll be able to photograph that majestic beauty for as long as your heart desires before enjoying some of the other activities that desert has to offer, like camel rides, horse rides, dune bashing, and quad biking.
Plus, you don't have to partake in any activity you don't feel comfortable doing. After your fun-filled day, your desert trip will come to an end, as you'll be dropped back off at your accommodation in Dubai. So make sure you get the most out of today so you can bring home plenty of memories with you!
Going to a bachelorette party in Dubai is an experience like no other! This is a party that you and your closest friends will never forget. The amazing city of Dubai is composed of towering skyscrapers that hug the coastline, and is flanked by an inviting desert and an even more inviting sea.
A bachelorette in Dubai screams luxury, and there is no better place to experience it. Imagine taking a helicopter ride over the city for an aerial view of the buildings, explore the desert by car, or take a luxurious day out on a yacht and explore the crystal-clear waters of the sea. Doing all this 100% will create memories that are guaranteed to last a lifetime.
Dubai vacation packages 2023:
Duration: 8 Days
Price: $3563
Booking amount: $2138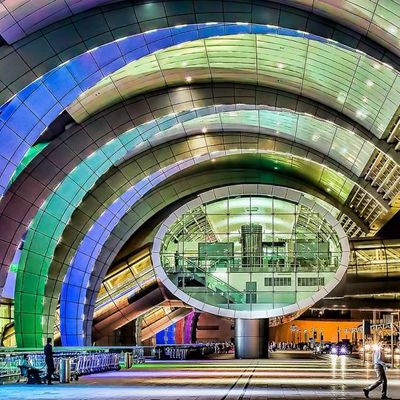 8 Days Itinerary – Dubai vacation packages 2023
Day 1:
Welcome to Dubai! Today, I'm thrilled to be here with all of you, as we anticipate an exciting and magical week ahead in this vibrant city. Life as I knew it has been turned upside down as I just arrived in the airport and welcomed to an ultra luxurious hotel in the most fashionable area of Dubai – Dubai Marina. After such a long flight, the bed in the hotel room looks like a dream, and I'm making the most out of this moment to rest my eyes and enjoy the view outside.
Tonight, we will meet each other formally over dinner in the hotel unlike the impromptu introduction at the airport. After dinner, we will take the time to go over the details of our adventure and get inspired for the days ahead. What an exciting feeling! I can't wait to embark on this wonderful journey with all of you and explore everything Dubai has to offer.
Until then, I'm sending you lots of positive energy and wishing you all the very best – let the Dubai vacation begin!
Day 2:
Day 2 of our trip started bright and early. After we grabbed breakfast at the hotel, we couldn't wait to soak up some sun by the sea. We spent a couple of hours lounging on the beach, noshing on snacks to keep us going until lunch. When lunchtime arrived, we were off on a fascinating jeep safari across the sandy dunes. It was an incredible feeling to be surrounded by the desert and free. As the sun started to set, we made our way to a Bedouin village for a delicious dinner, camel rides, and some entertaining shows. It was a long day filled with so much to explore! Finally, we got back to the hotel late that evening, ready to tell everyone all about our experience and to hit the sack after a long, exciting day.
Day 3:
Day 3 has been a blast! We started our morning with a nice, invigorating shower and then made our way to the breakfast. Afterwards, we enjoyed a relaxing time at the pool where we took in the sun, read books, listened to music, and simply enjoyed just being there with each other.
Shortly after, we headed to Global Village, an amusement park with stores, shows, rides and food from all over the world! Needless to say, we had a great time!
We then made our way to the Flower Park and Butterfly Park and oh, the beauty! Stand next to a wall of luscious pink roses? Check! Surrounded by hundreds of itty-bitty butterflies? Check! The experience was just surreal and something that won't soon be forgotten.
Finally, after a long but fantastic day, it was time to head back to the hotel and rest up for the next day of adventure. Can't wait!
Day 4: Celebration
We are starting the day off with a surprise for each of our travelers. After our delicious breakfast at the hotel, we will make our way to the heliport and get a bird's eye view of the city. We will hopefully get a glimpse of our hotel!
Our next destination is the iconic Dubai Frame, where we can see the old part of the city contrasted with the new. It's sure to be a fantastic photo opportunity, with different perspectives and varying heights – who knows how brave our travelers will be?
In the evening, there will be a spectacular show on the water called 'La Perle'. This will be a wonderful way to finish off a perfect day of exploration and appreciation of the modern metropolis. We can definitely look forward to being thoroughly entertained!
Day 5: Yacht, shopping and singing fountains
On day five, exciting adventures await us! We will be going on an eighty-foot yacht for a boat trip. Don't forget to take along a towel, a swimsuit, and other necessities. As we travel around the stunningly beautiful coastline, we'll have plenty of opportunities to socialize, have fun, and even go for a swim in the crystal clear waters!
After our boat trip, we'll head off to one of Dubai's best shopping malls. Here you can find something special to bring home, with fascinating streets and unique experiences, this is a great opportunity to get some real bargains. So, don't miss out on the opportunity to save money whilst having fun and doing some window-shopping for the perfect souvenir.
Finally, in the evening, we will visit the singing fountains. This mesmerizing show is sure to fill everyone with amazement and joy. We will enjoy a dinner from the restaurant and watch the vibrant light displays which sync with a very special soundtrack. This is a perfect way to wrap up day five and enjoy the magnificence of the Dubai skyline at night.
Day 6: Dessert tour
Today has been an exciting day! After having breakfast, we hopped in the car and set off to the sand dunes, eager to find the oasis that had been promised. After traveling for around an hour, our eyes descended upon a beautiful hotel when, like a mirage, we finally arrived at the oasis. There's something about the sterility of the desert that makes the presence of a swimming pool that much more enjoyable, and so after checking into the hotel, we rushed to take a dip.
By nightfall, after a lovely dinner at the hotel, we stepped outside and were greeted by the star-speckled sky above. It was truly a breathtaking sight, one that we won't soon forget. All in all, day 6 of our trip was a definite success!
Day 7:
Today was day 7 of our journey in the middle-east and, like any other day, it was filled with excitement. We began our journey in the morning, visiting a remarkable oasis in the desert; it was a quite breathtaking sight with its lush vegetation and serene waterways. But the main highlight of the day was the opportunity to witness and experience falconry; an ancient art integral to the lifestyle of Arabs and an indicator of status for many. It was a mesmerizing sight to behold! There was something truly majestic about the way the Arab Falcons flew gracefully, soaring in the skies, and displaying incredible strength and agility.
At the end of the day, we returned to the bustling Dubai Marina, making a refreshing stop for rest before embarking for an adventure in the evening. We headed over to the majestic Burj Khalifa – the world's tallest tower, making sure to have a cup of coffee from the highest floor, 148. From the peak, the city of Megapolis was truly a sight to behold; it was like a never-ending sea of twinkling lights. It was a fitting end to our day; one of awe and wonder.
Day 8: Homecoming
Today marks the end of our incredible journey. After 8 days of exploring the fascinating sights and sounds of the Emirates, we get ready to go home. Everyone will be transferred to the airport at the arranged time, and we can finally be reunited with our families after such a long and amazing trip. I'm sure they'll be very excited to hear all the incredible stories we gathered in these past few days.
Homecoming always comes with a bittersweet feeling. On one hand, it's great to be going home and having familiarity, but it's also sad to have to part with all the wonderful memories we made here. From swimming in the vast turquoise waters of the Indian Ocean, to watching the sun go down from the sandy dunes of the Arabian Desert, our experiences here were nothing short of extraordinary.
No matter how much time passes, these memories will forever live on in our hearts, so although our trip is coming to an end, all the incredible moments of this journey will stay with us for years to come. Goodbye, Emirates. It was an incredible experience that we'll never forget.
Benefits of vacationing in Dubai in 2023
If you are looking for the perfect place to vacation in 2023, consider Dubai! This fabulous Middle Eastern city is an amazing destination, with something for everyone. Not only is it known for its world-renowned shopping, luxurious accommodations, and vibrant nightlife, but it is also home to a variety of amazing attractions, from iconic buildings to stunning beaches.
In Dubai you can experience a truly unique desert culture, with sights, sounds, and smells unlike anywhere else in the world. Relax in a traditional hammam and be pampered with a massage, soak in a hot desert sand dune, or explore the city's many parks and deserts, museums, and traditional souks. Tourists will also love the city's many temples, mosques, and ancient sites. Whether you are interested in shopping, sightseeing, food, or just soaking up the atmosphere, Dubai has something that everyone will enjoy.
The accommodation in Dubai is of a world-class standard, and there is certainly something to suit everyone's budget. With its world-renowned beaches, incredible golf courses, and unique theme parks, Dubai is the perfect destination for those who love outdoor activities.
One major benefit of vacationing in Dubai in 2023 is that it is likely to be much cheaper than in other areas in the Middle East. With oil prices decreasing steadily for a few years now, the cost of living in the city has dropped significantly, making it much more affordable for the average traveller. In addition, with the introduction of visa-free travel for many countries, the process of getting to the city from abroad has become much easier and less expensive.
So if you're considering a trip in 2023, Dubai is one of the most popular and vibrant tourist destinations in the world! With its incredible culture, stunning attractions, and unbeatable prices, there is no better place to visit than Dubai in 2023!
Conclusion
Overall, a trip to Dubai in 2023 can be the perfect way to experience a luxury holiday without breaking the bank. With a range of accommodation options and extensive activities to choose from, you'll have the opportunity to enjoy everything this vibrant city has to offer. Whether you're looking to relax on the beach or explore the city's bustling nightlife, a vacation package to Dubai can be the ultimate adventure. So, why not plan your vacation now and begin the countdown to your trip of a lifetime!